5 Reasons Why Your Business Needs to Invest in Video Content for Social Media
…right when you master social media, they change the mysterious algorithm again! If you're the person running your business's social media platforms, this can be a frightening experience. Now that video has taken social media by storm, it can seem daunting for someone who has relied on photo and text content to try and compete with other pages. That's where we come in!!
Kzoom is a full-service marketing firm made up of experts in videography, photography, marketing, and design! One of our specialties is filming and editing videos to grow your business brand awareness.
Does my business social media NEED video content?
YES! 85% of business use video as a marketing technique!
Below are 5 reasons we believe video is necessary for today's social media AND what that can look like for your business!
01. What is Video? (For Social Media)
Video content can be more than just simply recording selected content. You can use animated gifs, boomerangs (on Instagram stories), and live streaming – as just a few examples! The shape of your video content will change depending on what story you are trying to tell. To find out what type of video content you want to make for a post, there are a couple of questions you need to ask yourself first!
How long is my story going to take to tell?
Does it need words or original audio to get my point across
Is this content "evergreen", or does this post only need to be up for a set time?
What social media platform should I use? What is the tone of this content - professional vs. playful
For this video, we knew they needed:
1: Time: A minute or two to tell their story 
2: Audio: Original audio to communicate their message
3: Duration: Timeless information – to stay on their page indefinitely 
4: Placement: Professional and informative content, posted on all social media platforms
We made a 3-minute video, and posted it with their own audio (instead of using a trending song or background music.) They wanted this posted to all their social media platforms and we posted it straight to their social media wall ( instead of just a story - which would only have stayed up for 24 hours - or a reel - which would stay up indefinitely but wouldn't be found on their page.)
Here's another example...
For this video, we knew they needed:
1: Time: A few seconds to tell their story 
2: Audio: No audio needed to tell their story 
3: Duration: Timeless information – to stay on their page indefinitely 
4: Placement: Professional and informative content, posted on all social media platforms
With this post, we made a 20-second animation, used popular audio for the video, and posted it on all their social media walls. Since it's also a shorter clip, we added it to their stories as well. Now you can see how diverse video is and how it can be transformed based on what story you're telling! Next, we will dive deeper into what types of stories there are to tell through video.
02. Video Has Higher Value Than Text/Image Posts
The most basic goal of video content for social media is that you want it to have value. Value for your audience and value for your business. This is why video is so great! If a picture is worth a thousand words, a video has to be worth millions! The meaning of video is also easier to be translated, unlike photo or text posts; you can use a mix of imagery, text, AND sound to get your message across accurately. Video can also evoke powerful emotions that simple text and photos can't curate. The possibilities of stories you can tell through video on your platform are endless. Whether you want to do a deep dive into a new product or service or have your audience get to know you and your brand without ever having to step into your building. Video is the best way to connect with your customers and give them the most information for their time.
Some examples of high-value video posts are; Customer Testimonials, "About Us" videos, "Meet the Team" videos, Behind the Scenes videos, and Product/Service Deep Dives.
Did you know 84% of people have purchased a product after seeing a video about it?
These high-value videos are crucial to have on your website!

Check out our blog on the importance of video/photography on your website here!
03. Video Performs Better on Social Media
Since we know video has more value and can get more information to your audiences more efficiently than photos or text, it is no surprise that it performs better on your platforms! Videos are shown to have the highest engagement rates. They are more likely to be shared by your followers and have more tagging of other platform users in the comments. Video is also the most common form of content to "go viral", so it's no surprise people are jumping on the video bandwagon. If you are struggling to connect with your audience and get your brand message out there; video is going to be your knight in shining armor! 
According to WordStream, video generates 1200% more shares than image and text posts COMBINED!
Did you know video also has perks depending on what platform you use it on? Video has not only likes, comments, and shares, but it also has view time and "dueting" (or "remixing").
View time is the number of times your video has been watched and also the duration of how much of your video the viewer watches.
Dueting (or remixing) is when another user takes your video and makes ANOTHER video reacting to it or sharing it. This is a huge perk because not only do you get the views from your video, but you also get the views from the user duets!
These perks are important because the more your content is viewed, or engaged with, the more the platform will continue to spread it to other users to interact with! This is great news if your video is engaging and has a good value message.
Trending Sounds and Songs
Video also has the opportunity to add "trending sounds". Platforms like Instagram, TikTok, and Facebook all have the option to add music or sounds to your video. These sounds or songs can go viral depending on how many people are using them at a certain time. If you can create valuable content that would go with a trending sound, your chances of engagement grow exponentially!
Most accounts on social media have their scrolling set to "auto-play" which means when they scroll to a video, it will automatically begin to play for them. This is an opportunity to grab your audience's attention in the first couple of seconds of a video and lead them to immediately engage with your content. Videos on platforms like Facebook, Instagram, and TikTok also go out into a separate hub of viewing other than just your page or your followers' "wall". Facebook has Facebook Watch, Instagram has Reels, and Tiktok has the "For You" page. These are pages on each social media platform where everyone's videos are stored. These videos can filter into your daily feed depending on your algorithm, and users can also go to these pages and search for a certain type of video, creator, or trending sound/song. This means everyone can see your content – even if they aren't following you! *initiate shock and awe sounds*
Multi-Use of Video Content
A video is a multi-purpose tool! Don't make the rookie mistake of thinking that when you have a video it can only be used once and in one way! Most videos are everlasting pieces of information or a crucial part of your brand's story. For example, one 10-minute video about your services can be cut into 20, 30-second clips and used as social media posts to highlight each of your services, used in your stories to advertise a specific service, in a blog about what services you offer, or put on your website under each services page – the list goes on and on!
04. TikTok Taking Over Social Media
Since the social media platform, TikTok, hit the ground running, many social media platforms are trying to keep up by encouraging people to post videos on their platforms. Over the past two years, Instagram has made it very clear that they are trying to compete with TikTok and push video content on their platform. This is good news if you decided to start creating videos! Since Instagram is doing most of the work of promoting videos on their site, it's the perfect time to start creating videos since it's less promotional work that you will have to do.
In an analysis done by Cloudflare, they found that TikTok was the most visited website and most widely used social media site.
Another thing you may notice is on Instagram Reels or Facebook Watch, you are seeing a cross of the other platform's videos. So if you post a video on Instagram or TikTok and it gets a lot of views, it might just make its way over to Facebook all on its own! This cross-sharing of video is blurring the lines between social media platforms and is giving you a much broader audience than photo or text posts ever could.
So here's the rub; video is better at engaging people and better at communicating your message AND is spreading farther and faster than photo or text. All social media platforms are transitioning to offer more avenues for videos to get placed on their platform and therefore; more trending content is in video form. 
If you are looking to grow your brand name, looking for more engagement with your audience, or looking to build a relationship with your customers and community, video is your best option!
Looking to make value-dense professional video content for your business? Contact us today!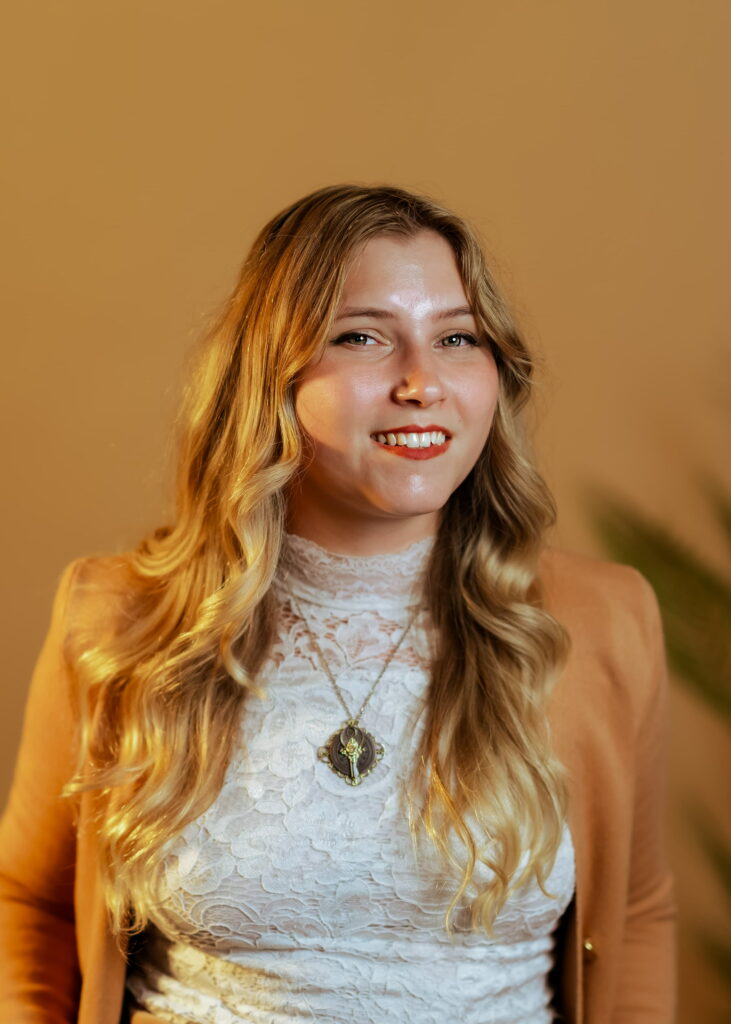 Digital Marketing Coordinator
Kiah is a passionate marketer. She is a social media wizard who loves staying on top of current trends and creating intriguing content.
"I love bridging the gap between a business and their community! Building relationships is what marketing is, and I love that." 
In her free time she loves digital painting, reading fantasy novels and spending time in the woods with her dog, Luna. 
Show this blog some love!